Sharing the walk of this year 2022
Mon 1-23-2023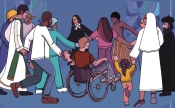 In some way this year has been marked by the experience of synodality.
The entrusted responsibility invites us to motivate and accompany this "walking together" of the fraternities, wherever they are and also to share the events of that path with others. When we share the paths we become human and we all become brothers.
Certainly the different means of communication within our reach have helped us a lot at this time when face-to-face meetings, for health and economic reasons, are not always possible. The important thing, we note with joy, is that our fraternal journey has not come to a standstill. We all miss and want to meet and see each other's faces, hear each other, hug each other, share our experiences. We all wish we could get out of our surroundings. Hopefully we don't lose that desire to go out to meet others. The friendship and fraternity that is typical of our small nuclei should give us strength to "stand up" and walk, go out to our cities, communities, neighborhoods in which we live and thus, together with others, raise awareness of everything that makes everyone's journey possible and what makes it difficult (laws, physical barriers, prejudices, attitudes, languages among many other things...) to make it livable, habitable, dignified, human. The way is long.
We have witnessed all of this that we have just expressed, in the different moments in which we have been able to meet (between us as a team almost always three times a month) with the fraternities to celebrate their meetings, anniversaries , workshops, study days, assemblies, invitations to continue... The meetings, some were virtual, others through communications: email, newsletters. Others we were able to do in person (European Assembly and Meeting of Frater España leaders, both in Segovia). When we want to communicate, the means that make it possible appear. One feels surprised and also, very grateful. There is a lot of life in all of this.
The entire movement generated by the invitation to synodality by our brother, the Bishop of Rome: Francis, has been a great wealth, lived in different ways, in the places where we live. We have encouraged this path by sharing the materials (booklets) received from the fraternity of Spain. An excellent work that expresses and talks about a journey of fraternity, inviting, through reflection in the groups, to make more aware of our lives and the path that opens for us to continue making our way. It gave us joy when we were told that the material was being used.
We are grateful that you have also shared the difficulties that, in this synodal path, have been given and the answers in favor of this path so that nothing hinders this right to be about us. The roads are not made, they have to be built. To the extent that we walk as fraternities, we become a fraternity… taking care of the life of the fraternity, we are making our way. This sharing has also made us aware of knowing that we have firm, fighting, creative brothers and sisters who know how to do fine so that fraternity does not weaken and society does not become impoverished. The meeting held in the Vatican with other brothers worldwide is an expression, a very concrete, historical moment of this journey that has begun.
The written reflections of our brother José María Marín have also been a great gift. We received them with joy, we read them, they were present at our team meetings and we gladly shared them with the other fraternities and with brothers and sisters. Many people appreciated this reflection because they felt in them (their simple expression, the photos that accompanied the texts) close to the gospel and in connection with life. It called our attention that words from other latitudes had an echo and reception. Once again, the humanity recounted in the gospels is common to every human being.
Many times we comment among ourselves that the communication with the African fraternity has not been what we would have liked to have. We have encouraged them to hold their meetings. We are sorry, we have not been able to gestate it enough. The media have not always been in favor of fluid communication. A pending task. With the rest of the fraternities, the communication of everything that we perceive needs to be known has been shared. Sometimes we feel that all the communication that is shared does not always reach the recipients. It seems to stagnate. We believe that all communication promotes brotherhood between us and makes us feel that we are part of a universal brotherhood, present throughout the world. Enabling communications is everyone's responsibility. Otherwise we will all become poorer.
Many times, among ourselves we comment with joy and gratitude, all this path that has been taking place in this epidemic and post-pandemic situation... A reality that has highlighted situations that we knew about (extreme poverty, injustice, corruption, exclusions, marginalization) and that many of us have experienced (confinements so as not to feel ashamed and rejection by society due to social prejudices) because of our being people with disabilities... The path has been the search for new forms of communication. Once again, our capabilities exceed our limitations... economically, many lived presences would have been impossible.
All in all, we want new spaces to open up to make meetings a reality where, in person, we can share our paths and in that sharing, discover the routes that make possible other coexistences and ways of life in dignity, justice, fraternity and humanity. Continue walking together and thus make paths in this house (church-society) that is our home.
Thank you all very much.
In this walk together, with successes and failures, we have all become more brothers and it has been the best contribution we have been able to make to the human community.
Once again, thank you very much and always united in this fraternity that is a true gift.
Sonia Martínez, Carmen Mazariegos and Miguelangel Arrasate.
Core Team
Guatemala, Panama December 2022
(In our "Documentation" section, "Reports" section, you can find the 2022 ACTIVITY REPORT")