---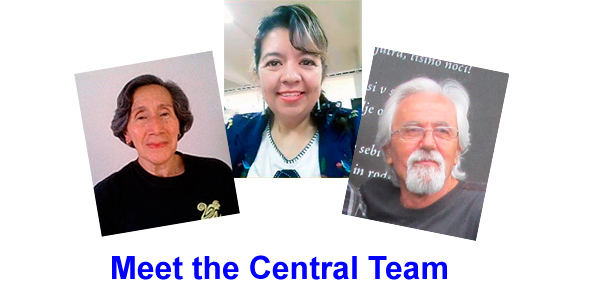 WHAT IS FRATER?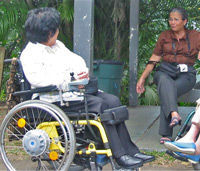 The Intercontinental Christian Brotherhood of People with Disabilities (Frater) is a Christian movement made up of, and managed by people with disabilities who have taken control of their lives, struggle to live in dignity, and accept to live together as brothers, in recognition of each another's differences.
Frater welcomes everyone, without distinction, in a spirit of ecumenical and missionary openness. People without disabilities are also welcome to join Frater if they accept and embrace this message.
Legally speaking, Frater is an international, private, faith-based association under pontifical law, and a legal entity. Frater was canonically approved by the Pontifical Council of the Laity on 11 February 1995. Statutes were definitively adopted on 13 May, 2000.
THE CHALLENGE OF DISABILITY
OUR MISSION: FINDING NEW WAYS TO BE THERE FOR OTHERS
Throughout the world there are people who suffer from illness or disability and who live alone as a result of fear, complexes and low self-esteem. In most cases, it is also difficult for these people to find decent work or access public places, due to architectural barriers and their exclusion from society. This is a hidden but undeniable reality that must be dealt with.
Today's medical expertise and technology can help prevent many deficiencies and disabilities, and help people overcome their condition and reduce the effects that a disability or illness has on their lives. Science can also provide ways for countries to eliminate the barriers that exclude so many people from society.
The UN Convention on the Rights of Persons with Disabilities shows that people with disabilities are not victims to be taken care of or cured, but individuals who want to have the same rights as everyone else.
Frater is a product of this reality but also aims to overcome it. The organization works towards establishing new interpersonal and community-based relationships ('community living') and is committed to building a new society based on respect for the dignity of every person living with a disability. Frater awakens people's consciences and encourages them to take control of their lives. The organization also denounces exclusion. In this way, Frater promotes the Gospel of Christ: "Rise and walk with me".
Frater has accepted the challenge launched by Pope John Paul II during the 2000 Jubilee when he stated that "the disabled are unique people in their inalienable dignity and equality, who need not only attention, but most of all love that transforms into recognition, respect and integration…Disability does not only imply need; it also means inspiration and stimulation. Of course having a disability means asking for help, but first and foremost, it means standing up to individual and collective egotisms. Disabilities are also an invitation to find new ways to be there for others.
These new ways of helping one another create a permanent and inclusive dialogue involving the whole community, without which all of humanity would be incomplete. At the same time, humanity makes this dialogue possible.
FRATER PRINCIPLES AND GOALS
Frater is coordinated and run by teams of lay managers who have disabilities (mainly chronic illnesses and physical disabilities).
Frater cultivates a spirit of solidarity and sharing, guided by the ever-present illumination of the word of God, with the sacraments and fundamentally with the Eucharist, in which one can offer oneself and give the Author of Life.
Frater operates in a spirit of missionary and ecumenical openness and embraces the Universal Church of the world in all of its cultural diversity.
Frater receives spiritual inspiration both from the prelates and the spiritual advisors and assistants who actively participate in team activities in all parts of the movement. This allows lay members to fully assume their responsibilities in the Church and around the world.
Generally speaking, Frater helps people with disabilities or illnesses develop their full potential. The organization assists these individuals as they build a world in which people are respected with their differences, and with dignity. The Intercontinental Brotherhood:
Promotes personal encounters between members, and between leaders in different countries. Through communication, Frater promotes united and coherent action in a spirit of welcome and transformation.
Encourages training as the fundamental basis of Frater's existence in different countries. This training is designed to allow mutual exchange and is adapted to different cultural realities.
Takes a stand against the social barriers that hold back people with disabilities, and if necessary, asks other public and private organizations to take action and adopt measures to ensure the recognition of people with disabilities and illnesses in society and in the Church.
Represents Frater, by working together with international organizations, entities and associations to achieve the above goals. The Brotherhood has over 60 years of contact and organizing experience with groups of people with disabilities living in different situations and different countries.
STRUCTURE AND ACTIVITIES
Frater is brought to life through its leaders and teams; it is minimally structured at the local through to the international level.
Frater Intercontinental is made up of Continental Brotherhoods that are in turn part of affiliated National Brotherhoods. These are made up of the local and central teams within a country.
Frater Intercontinental is therefore a perfect context for mutual exchange between Continental and National Brotherhoods.
The Intercontinental Team is currently based in Spain.
INTERCONTINENTAL TEAM
Central Team
Intercontinental Coordinator
Intercontinental Vice-Coordinator
Intercontinental Advisor
Plus a Continental Coordinator in Africa, America and Europe
The Intercontinental Team meets once a year
The Intercontinental Committee meets every four to five years
---
AFRICAN CONTINENTAL TEAM
African Continental Coordinator
Continental Vice-Coordinator
Continental Advisor
Delegates from Apostolic Regions can also participate
The Continental Team meets once a year
The African Continental Assembly meets when material and human resources permit
---
EUROPEAN CONTINENTAL TEAM
European Continental Coordinator
Continental Vice-Coordinator
Continental Advisor
The Continental Team meets twice a year (in autumn and spring)
The European Continental Assembly meets every two years
---
AMERICAN CONTINENTAL TEAM
American Continental Coordinator
Continental Advisor and Continental Deputy Advisor
Plus one coordinator per region
The American Continental Team meets once a year
The American Continental Assembly meets every four years
REGION I Coordinator (Central America and Caribbean)
REGION II Coordinator (Andean countries)
REGION III Coordinator (Brazil and Southern Cone)
REGIONAL assemblies are held every two years
---
Associate countries like Taiwan are invited to participate at Intercontinental Committee meetings.
---